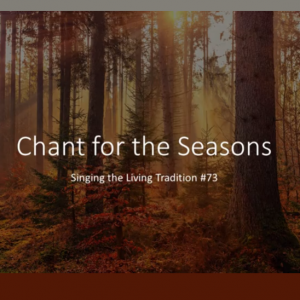 The Hymn is #73, Chant for the Seasons. This hymn features both Michael and Les Tacy combining to put this video together. Michael and Les performed the audio, and Michael produced the video.
With the Fall Equinox approaching, hymn #73, Chant for the Seasons, is a fitting tribute to the arrival of Fall. The lyrics are by UU minister Rev. Mark Belletini. Grace Lewis-McLaren has adapted a Czech tune, "Praha", for the song. Usher in the new season as you listen and sing along with this beautiful song. The words are on the screen for you to follow.
Experience the YouTube video, Chant for the Seasons.