On Wednesday, March 8, 2023, Heritage UU Church members went to Inter Parish Ministry (IPM) in Amelia to volunteer to pack crates with dry goods, which will be given out at the weekly drive-thru pantry at the Amelia location.
More than 100 milk crates were each filled with three recycled grocery bags containing a variety of dry and canned goods.
In the past, the Freestore Foodbank packed boxes for IPM and delivered them to the locations in Amelia and Newtown, as well as to the more than forty mobile pantries IPM provides at various locations during the spring and summer.
This service is no longer provided by the Freestore Foodbank. Given the high cost of the cardboard boxes, IPM has resorted to a "do it ourselves" assembly line style pack-o-rama.
In addition to all of the other items given out (produce, milk, meat, eggs, bread, sweets, personal care items, diapers etc.), each family receives the contents of one of the crates (double for families of six or more).
Given that there are approximately 120-150 crates given out at the regular Thursday/Friday drive-thru pantries as well as others distributed to various social service agencies/affordable housing complexes, the need is ongoing.
Volunteers are also always needed for putting together power packs that are distributed to local schools, which then distribute the packs to food-insecure students over weekends and holidays.
Anyone interested in participating in a future packing event, or organizing a group, can contact Bob Drake.
People who participated in the pack-o-rama and/or assembled power-packs: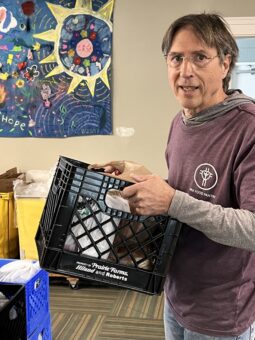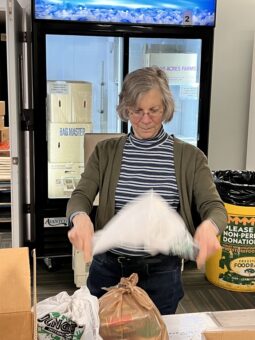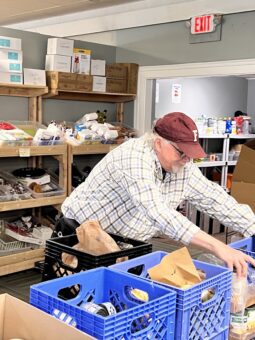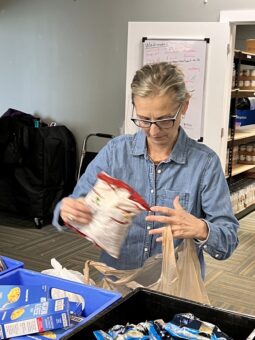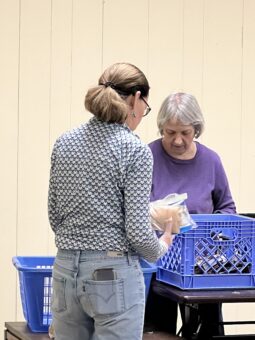 Images courtesy of Bob Drake.