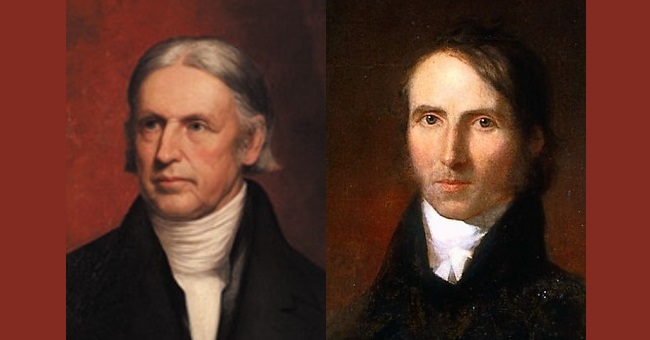 In the first few centuries A.D., different people held varying ideas about what Jesus' life and message meant. Among these were the ideas that ultimately all souls would be reunited with God (what could be called universalism today) and that Jesus was not divine (what could be called unitarianism today). Over time these views were labeled heretical, a position made official by several church councils starting with the First Council of Nicaea in 325 C.E.
The modern movement that became known as Unitarianism began almost simultaneously in Poland-Lithuania and Transylvania in the mid-16th century. Its ideas spread to England and America. A few centuries later a number of key and influential U.S. figures were Unitarian, including John Adams, Ralph Waldo Emerson, Louisa May Alcott, and Dorothea Dix. The First Unitarian Church of Cincinnati was the home congregation of President William Howard Taft.
Modern universalism arose 17th century England, and later in Europe and the United States. In the U.S., Universalism was popular among farmers, tradesmen and shopkeepers, and was the sixth-largest denomination in the U.S. at its peak in the 1800s. At one time there were several Universalist congregations in southeast Ohio, but the number of congregations and members decreased as our society became more urban.
In 1961, the American Unitarian Association and the Universalist Church of America voted to consolidate to form the Unitarian Universalist Association (UUA). The UUA has had an influence on society in several ways, including strong involvement in the civil rights movement of the 1960s (as several ministers marched in Selma), the publication of the Pentagon Papers in the 1970s, the increase in women clergy (today at over 50%) and support for and inclusion of people who are lesbian, gay, bisexual, and/or transgender.
Our congregation was founded in 1827 as the First Universalist Society of Cincinnati. The church's original permanent meeting place was on Walnut Street in downtown Cincinnati. In 1857 the First Universalist and the Second Universalist Churches merged and moved to Plum Street. In the 1890s our congregation built and moved into a church building on Essex Place in Walnut Hills. Our minister from 1926 to 1933, the Rev. Robert Cummins, went on to become the General Superintendent of the Universalist Church of America. In the middle of the 20th century our congregation merged with City Temple, a New Thought congregation. In 1968 our congregation moved to a large house on Salem Road in Anderson Township and renamed itself Salem Acres Community Church. In 1982 the congregation moved from that location and had three "nomad years" in rented quarters, before building and moving into the present location in December 1985. At that time we changed our name to Heritage Universalist Unitarian Church.
Portrait of Rev. Hosea Ballou via Wikipedia. Portrait of Rev. William Ellery Channing via Wikipedia.